This is a short guide to know Extremadura, a wide region located in western Spain, just 2 hours from Madrid. Incredible ancient monuments, many nature reserves, low population and rural traditions.. Extremadura is a place to get lost.
Extremadura is a beautiful region of Spain, located in the west, just in the border with Portugal.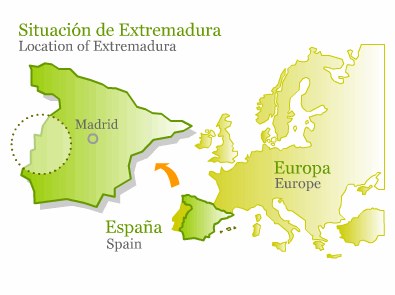 Since first settlers arrived to this land (many thousands years ago) this region was always a very valued place, located in an strategic area, with a relatively smooth climate and a perfect land for farming and stockbreeding.
Many cultures and civilizations have lived in this land: prehistoric civilizations, pre-Roman cultures, Romans, Visigods, Arabs, Cristian..
In the XIX century and first part of XX century, Extremadura was a region with a very limited level of industrialization. Also, the population density in the area is very low. Those factors have allowed that many zones of Extremadura have preserved the original nature for centuries and traditional farming lands, mainly the vast expanse of wood pastures called dehesas.
Extremadura is the region of Western Europe with the highest percentage of Important Bird Areas, so it is the perfect place for birdwatching.
Extremadura has two provinces: Cáceres (north) and Badajoz (south). And there are many regional zones, each of one with its own culture, traditions, history, monuments, gastronomy..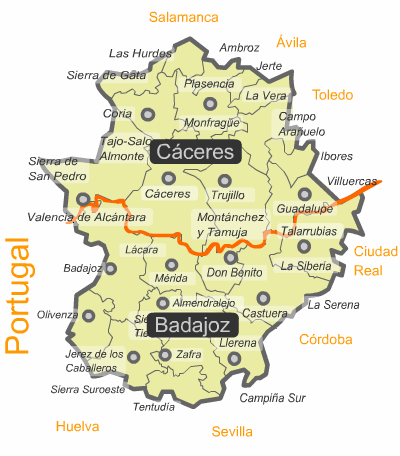 Winter in this region is not so cold, it has Mediterranean climate, with long and mild winters because the proximity of the Atlantic coast of Portugal. Maybe, the north of Caceres or the mountain ranges at Guadalupe (located at the east) are places with lower temperatures, but the average temperature in winter is over 8ºC.
Summers are hot and dry, with temperatures up to 40ºC some days, mainly in Badajoz (south of Extremadura)
Every zone offers to the visitor unique and variated points of interest: ancient monuments, culture and tratidions preserved for centuries, nature: rivers, mountains, dehesas.. zones for birdwatching, for hicking or simply for relax.
So, where to go..
If you like culture and history, you could visit the World Heritage Triangle (World Heritage Cities of Extremadura) made of Cáceres, Guadalupe and Mérida.

The city of Merida was the ancient Emerita Augusta, and holds many Roman monuments and ancient treasures. The city of Caceres has the medieval town located in the center of the modern city. And the little town of Guadalupe has the impressive Monastery of Guadalupe.
Other places you must to visit in your cultural trip:
The city of Trujillo. The old town of Trujillo includes medieval and renaissance buildings, with the impressive Arab castle or beautiful medieval churches.
The city of Plasencia, where you can see two Cathedrals (also known as the Old and the New Cathedral).
The city of Badajoz has an impressive Arab fortress (Alcazaba de Badajoz), the Cathedral and is a beautiful modern city.
If you want to know about Templar Knights, you must to visit Jerez de los Caballeros, at the souht-west of Badajoz province
If you like nature, birding or slow lifestyle, take a look to some of those beautiful places of Western Spain:
Where to stay..
If you are looking for nature and relax, you can find beautiful places for every seasons in the north of Caceres province: Sierra de Gata, La Vera, Valle del Jerte..
If you want to visit everything as posible, or you like to stay in a city, maybe you could choose Plasencia, Caceres or Merida, because all of them are located in the A66 highway that connects Extremadura from north to south. So you can plan your daily trips from these cities to every other place of Extremadura:
Caceres has also a wide offer of hotels and apartments
And Plasencia is the perfect place to stay if you want to visit the north of Extremadura