The Guadiana is one of two big rivers that flow through Extremadura lands. This zone is called Vegas of Guadiana because the lands are very fertile in the proximity of the Guadiana river in this area.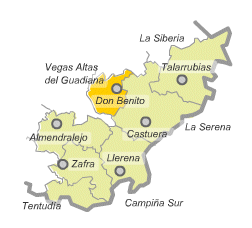 Don Benito and Villanueva de la Serena are the main cities.
Many cultures and civilizations were living in this zone because the richness of those lands and the strategic location.
The Alcantara Order and the Santiago Order have a great influence over the zone in the Middle Age. There are many militar and defensive buildings.
Medellin is a clear example of the history of this land: it has in a few meters the rests of an Roman theater, the impressive Christian castle (builded over an Arab castle), three churches of differents styles and epochs and a beautiful bridge over the Guadiana river.
Villanueva celebrates every year the Festival of Theater in the Streets, a very original and fresh event.
[sc:MapaVegasGuadiana]